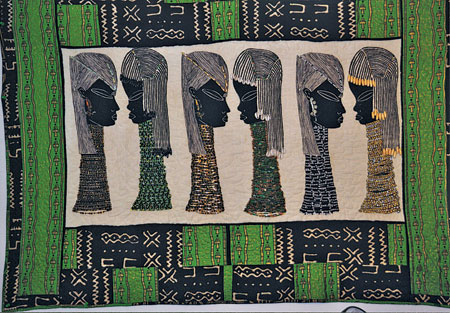 Fabric becomes art
Cheryl L. Brown brings her quilts
to the MHCC Fireplace Gallery
Thelma M. Lucas
The Advocate

Mt. Hood Community College will host an exhibit by quilting artist Cheryl L. Brown, "Fabric . . . as an art form," in the Fireplace Gallery of the College Center starting Tuesday through Feb. 25.

"There is something therapeutic about cutting a beautiful piece of fabric into tiny pieces and then sewing them back together, and I love African art the best," Brown said. "I have approx 20 pieces to hang, depending on space."

Nothing is for sale yet, she said. "Maybe after I go through everything, I might decide to sell something, but not right now.
"I am a 'commissioned artist' for the most part.  If someone has an idea of what they might want, I'll draft it out and take it from there," said Brown.

Brown, who is from Los Angeles, learned to quilt when she was a little girl.

"I was introduced to the world of quilting many, many years ago by my grandmother. I think it is safe to say that during those times quilting was not the art form it is today," she said.

"In 2000, I discovered quilting as an art form. Before then, it was pretty much for bed clothes and things like that."

The exhibit is open Monday through Thursday from 8 a.m. to 7 p.m. and Friday from 8 a.m. to 5 p.m.

Brown will be on campus at the exhibit during the first day of the show.

For more information on the Fireplace Gallery, contact Pam Kuretich at 503-491-7260. Brown said people interested in her work may contact her at granchipma@comcast.net, and her phone is 360-882-9757.


The Advocate reserves the right to not publish comments based on their appropriateness.


Comments
This comment form is powered by GentleSource Comment Script. It can be included in PHP or HTML files and allows visitors to leave comments on the website.