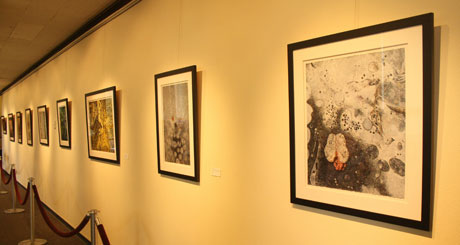 Photos by Tiarnan Fortes/The Advocate


Fireplace Gallery artist uses regional influence in water-colors
by Laura Knudson
The Advocate
A Eugene based artist is presenting her water-color series "Prodromes" in the Fireplace Gallery in the College Center until April 26.

Laura Ahola-Young teaches in the Art and Applied Design Department at Lane Community College.

This is her first time displaying art at MHCC and her first images using water-color.

She is originally from northern Minnesota and received her Master of Fine Arts from San Jose State University in 2001.

Ahola-Young has been drawing and painting since she was a child. Aside from teaching, she has two teenage daughters and knits in her free time.

"I consider myself a beginning knitter even though I have been knitting for 20 years," she said.

Her schedule keeps her busy but she said she would love to be able to paint every day. "Although I have a lot of responsibilities outside of painting, I am very disciplined about painting."

Ahola-Young keeps a schedule that forces her to paint even when she doesn't have the energy or desire.

"Prodromes" was produced because "I was without a studio for a while and needed to use material that was easy to clean up and did not require great ventilation as oil paints do," said Ahola-Young.

The collection took her a year and a half to complete. She spent nearly 30 hours a week working on the series. "After I hung the show, I came back to an empty studio, which was hard and exciting at the same time," she said.

The series is titled "Prodomes" to mean an early symptom indicating the onset of an attack or a disease.

"I have named the collection 'Prodromes' in relation to an internal, structural and organizational system of signage and warnings. Through paint, I am attempting to capture these instances of signs as symptoms: fleeting, a speck, a circumstance, a neural, biological, philosophical, sensory occasion," Ahola-Young said.

She said the images are perfectly pixilated to convey the contamination of a virus that affects our understanding of what is real, perceivable and concrete.
"When painting, I am actively creating while simultaneously destroying," said Ahola-Young. Once she develops meaning and imagery in her painting, she reworks and covers with scraping, glazes and mark making.

"What remains the same throughout the painting process is the structure they are forced upon," said Ahola-Young.

"It is this – what is possible and what must be destroyed – that has led me to research visually and intellectually this phenomenon in the natural world. Cells and stars, the miniscule to vast, must experience destruction for life to exist as we know it," she said.

Ahola-Young's work incorporates scientific research, the Pacific Northwest and personal narrative.

Her influences include philosophy, poetry, literature and politics. She added that, "landscape and the qualities of light found within specific landscapes influence my work. I am a new resident of the Pacific Northwest and the gray skies and rain influence my color choices as did the darkness and cold of rural northern Minnesota."

All are mediums for the way she approaches her paintings through questioning, storytelling and representing reality. She desires to create "metaphor of locality, personal narrative and small microcosms of culture."

Ahola-Young said, "The word 'inspiration' has little to do with the way I work on and develop a painting. I even ask myself, and have for years – why I paint."

She said she is motivated by her belief that "painting is still a valid form of visual communication." She added that in some instances it may be the only way to communicate and explore reality.

"To paint an atmosphere both beautiful and uncomfortable – this is the land and landscape of our humanity and I continue to believe that painting is a valid gesture," said Ahola-Young.

"My themes change within each series that I create, often because of a lack of understanding on my part. For example, my last body of work explored the themes of war and even the torture that was uncovered. I did not want to back away from the controversy of the images within that series," she said.

One of her roles as a painter, she said, is to ask questions. In her series she is asking "Is violence contagious? Are we immune? Are we immune to images?"

"For me, knowledge is always asking additional questions," Ahola-Young said. "I investigate through imagery the impact of humanity on the environment as well as war, globalization and politics on communities and American culture."

Concerning her future, Ahola-Young said she loves to teach and hopes to continue. She also set a goal of completing a new series of work each year. Ahola-Young plans to continue to exhibit and has started work on a new series.


The Advocate reserves the right to not publish comments based on their appropriateness.